Entrepreneurial Indie Artist TATIANA MOROZ Releases Soulful New Single "Safe With You"
Bitcoin's leading musician is funding her new album Keep the Faith with new token: TATIANACOIN
New York, New York- March 3, 2017-  Tatiana Moroz, singer-songwriter and Bitcoin pioneer, today released her new single "Safe With You."  Moroz recently announced a March 31st street date of Keep The Faith, her first studio album in five years, as well as a crowdfunded tour of freedom advocacy and music.
Tatiana was inspired to write the lyrics to "Safe With You"  while traveling on tour. Tatiana said, "being on the road has its challenges; nonstop traveling, lack of sleep, and no 'home' to rely on. It's amazing to play music and to be with fans, but in between the crowds, it can get extremely lonely. On the road, you meet new people, develop new friendships, and sadly end up just having to say goodbye the very next day."
"While touring, I met someone I thought was special," she continues, "who I hoped to have a future with. It was an incredible feeling to suspend reality and everything practical, and to believe that you can meet someone perfect, someone made for you. But like many relationships, it didn't work out… yet the feeling was so powerful that hope remains eternal. I wrote this song to express that feeling, a situation that I hope resonates with listeners everywhere."
Moroz' goal is not only to inspire, but to effect political change with her music. To this end Keep the Faith includes songs focusing on economic freedom, achievable peace and ending the Drug War, with emphasis on Ross Ulbricht of the Silk Road case and artist of the album cover.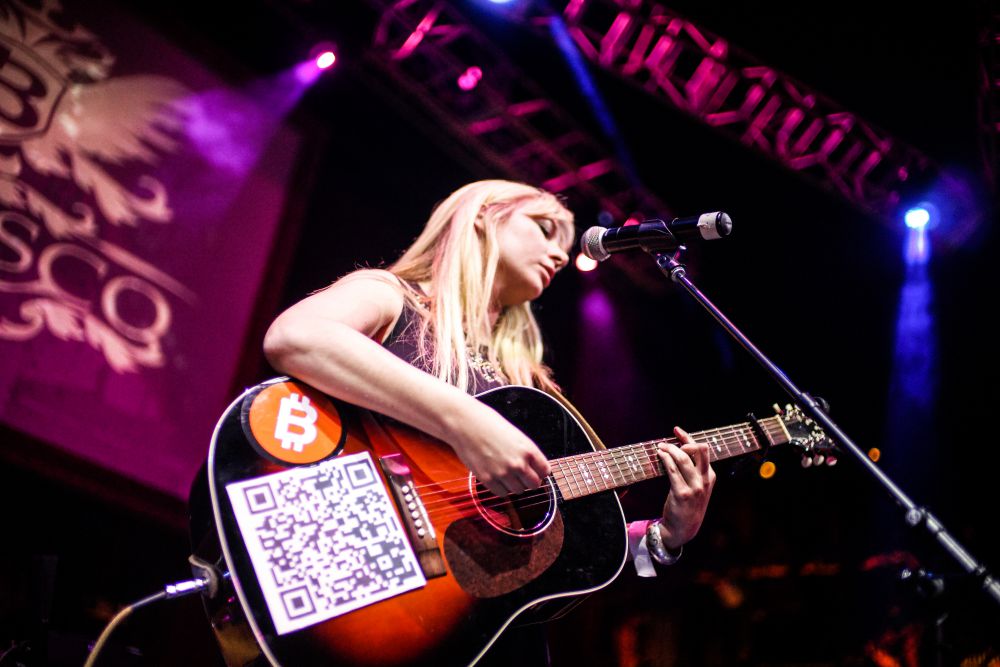 An international tour for Keep The Faith is being contributed to through donations to a new type of crowdfunding campaign. Two weeks in, the campaign has raised 40% of the goal  while offering innovative and exclusive benefits for patrons and followers. To raise awareness and engagement, Moroz has released multiple new Facebook live videos, new weekly Tatiana Show episodes, shared in-studio performances of singles from the album, and more.
Moroz is the innovator behind TATIANACOIN, the first example of an ArtistCoin. ArtistCoins are digital currencies that remove the middle-man while smoothing contracts, payments and communications. ArtistCoins are built on Token.fm, a platform that gives the power of music back to fans and content creators, enabling true ownership through a unique leverage of Blockchain technology.
"Fans can now be directly responsible for their favorite artists' success, with the power to truly participate in an ecosystem that allows for direct communication and engagement while owning digital music that can be traded, shared, streamed, and sold without violating artist copyright. It's a game changer for musicians and fans alike," Moroz said "ArtistCoins will enable songwriters, record labels, and publishers to seamlessly register work, view tamper-proof payment contracts, and distribute songs with all the splits built in. This will streamline the licensing process and ensure all the parties are fairly compensated so that more great work can be developed and distributed."  she added
Tatiana has been on the road since January 2017, speaking and performing all over the world at events including The Blockchain Event in Ft. Lauderdale, FL., Stride in Cincinnati, OH,,  Anarchapulco in Mexico, at Harvard University, and more. Tatiana plans to continue her distinct blend of musical and educational appearances overseas through Europe this summer, with dates and locations to be announced in the near future.
Fans can today participate in the crowdfunding by purchasing TATIANACOIN in bitcoin and in US dollars on Tatiana Moroz's official website. For more information, visit http://www.TatianaCoin.com.
[soundcloud url="https://api.soundcloud.com/tracks/306075353″ params="color=ff5500&auto_play=false&hide_related=false&show_comments=true&show_user=true&show_reposts=false" width="100%" height="166″ iframe="true" /]
Live studio performance of "Silk Road":
Upcoming events: http://tatianamoroz.com/events/
Live studio performance of "Safe With You":
###
Tatiana Moroz is available for interview
For all booking, press and partnership inquiries, contact Meghann Wright
Meghann@GrindEthos.com  |   808.753.7831
Media Contact:
Meghann Wright
Grind Ethos
P:  808.753.7831